Introduction
Tourist Attractions
Inclusions
Introduction
Yercaud – Hogenakkal
Yercaud hill station is situated in the Shevaroy Hills, was established by the British in the early 18th century. Today this is one of the state's productive areas and its surrounding slopes are entirely covered with plantations of coffee, tea, jackfruit and plantains.
The other areas of beauty are the man-made Yerikadu Lake and the Killiyur Falls and Lady's Seat which offers delightful views of the surrounding countryside. Also, if you are visiting to the Horticultural Research Station at Yercaud, you can see an interesting collection of rare plants here.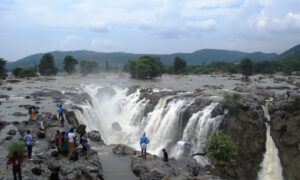 Hogenakkal is a riverside small village, a busy and noisy village, with plenty of vegetation and little habitation in Tamil Nadu. This place is famous for waterfalls. Hogenakkal Falls is a quiet beautiful waterfall and is a good picnic spot. Its water supposed to have curative powers as the waters of the Kaveri flow through a forest of herbs on their journey to Hogenakkal.
Hogenakkal Waterfalls, known as the 'Niagara' falls of India, are not a single waterfalls but a series of falls and they offers a promising holiday destination for nature lovers from and outside the country.
Hogenakkal is considered as one of the most beautiful places in the state. The broad stream of the River Kaveri gets forked at this point, forming an island from where one stream continues on while the other plunges into a deep chasm to create one of the loveliest waterfall gives these rocks the name Hogenakkal which means "smoking rock".
Tourist Attractions
Inclusions