Introduction
Tourist Attractions
Inclusions
Introduction
Singapore – Malaysia – Thailand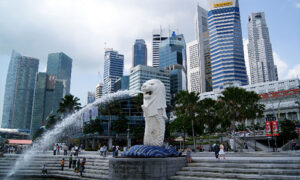 The Republic of Singapore is one of the main tourist attractions in Asia. Singapore is an island country and is considered as the smallest country in south East Asia. Enriched with various tourist attractions Singapore invited thousands of tourists from different corners of the world to come and explore her beauty.
Unique culture with wonderful scenic beauty makes the land stand out from the other popular tourist destinations in Asia. The parks, the gardens, the serene beaches and the palm fringes are the attractive features of this island. The mixture of culture can be witnessed in every sphere commencing from the delicacies to clothing to religion to heritage.
Singapore's Popular Destinations attract thousands of tourists every year. Various islands, small countryside towns with innocent nature give the tourists the chance to enjoy the natural beauty and its splendid elements. The most attractive part of Singapore is the blend of cultures where east meets west to form a new civilization. Singapore bears diversities in respect of its topography, ethnicity and traditions.
If you are planning for a trip in solitude, in the midst of nature, then Singapore will be the ideal place where modernity and nature unveils her beauty to the tourist and make their trip momentous one.
Malaysia has a wide range of tourist attractions. The sheer diversity of tourism destinations is astounding.
These include the high-tech city of Kuala Lumpur, tropical island of Langkawi, colonial hill stations of Genting and Cameron Highlands, numerous pristine beaches, Domestic Parks, and the world's oldest tropical rainforests.
Malaysia has the potential of catering to tourist of every hue and it truly lives up to its tag line of Malaysia Truly Asia.
Thailand an area of 513,000 square kilometers, lies in the heart of Southeast Asia, roughly equidistant between India and China. It shares borders with Myanmar to the west and north, Laos to the northeast, Combodia to the east and Malaysia to the south.
Topographically the country is divided into four distinct areas: the mountainous North, the fertile Central Plains, the semi-arid plateau of the Northeast, and the peninsula South distinguished by its many beautiful tropical beaches and islands.
Tourist Attractions
Inclusions