Introduction
Tourist Attractions
Inclusions
Introduction
Kodaikanal – Thekkady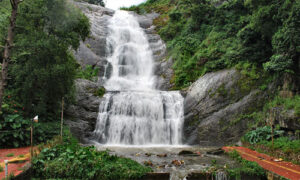 Kodaikanal is a hill station in TamilNadu, which mesmerizes you with its beauty and tranquility. A honeymooners' haven, Kodaikanal nestles beautifully amidst the folds of the Pali hills.
The pride of Kodaikanal is the 'Kurinji-flower', which blossoms once in 12 years, imparting an ethereal beauty to the hills.
Kodaikanal seems to be bestowed with all forms of beauty by Nature-majestic hills, mighty rocks, beautiful waterfalls, a serene lake, fruit orchards, lush flora -which makes it one of the most popular hill stations in South India.
Thekaddy, also known as Periyar, is home to the famous Periyar Wildlife Sanctuary and Tiger Reserve.
You can opt for Periyar Tiger Trail, Nature walk, Bamboo Rafting, etc in this exotic sanctuary, or an early morning boat ride in the Periyar Lake.
The spice plantation in Thekkady is a prime attraction of this beautiful land. Though sprawling tea estates cover much of the landscape of Thekkady, plantations of cardamom, rubber, vanilla and coffee are also aplenty.
Tourist Attractions
Inclusions